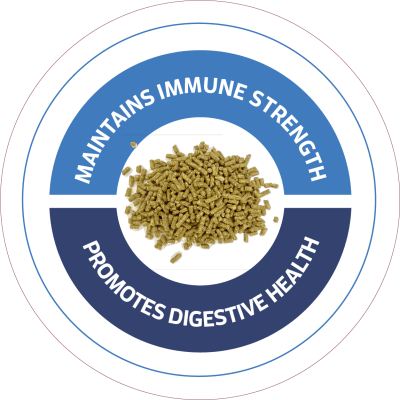 TruEquine is a natural* postbiotic technology found in equine feed and supplement brands around the world. TruEquine is made by fermenting a specific yeast strain and extracting a specific combination of metabolites proven to support horse health and performance.
TruEquine helps the gut work smarter, not harder
TruEquine streamlines the hindgut fermentation process within the horse by delivering the right combination of metabolites directly to the gut. Rather than relying on in vivo (inside the horse) fermentation, our unique Saccharomyces cerevisiae yeast-based postbiotic goes through an innovative fermentation process where the right metabolites for horses are created. With a consistent supply of the right metabolites, TruEquine can positively influence the structure and function of the gut to enhance nutrient absorption.  

TruEquine is a single ingredient that supports multiple health benefits
Supports proper gut function
TruEquine supports nutrient digestibility and Volatile Fatty Acid production.​
Supports a healthy immune system
TruEquine promotes healthy gut microbiota populations so they can respond effectively to stress.
TruEquine helps manage overall inflammation and supports cartilage integrity.​
Helps accelerate exercise recovery
TruEquine supports better management of cortisol (stress hormone) post-workout.​
Helps with everyday stress management
TruEquine helps horses respond to environmental stress like trailoring, tethering, and biological stress such as growth & development and aging.
Safety and quality, always
TruEquine postbiotic feed additives are manufactured in the United States in state-of-the-art facilities that meet current Good Manufacturing Practices and other stringent quality criteria. Diamond V facilities are in Cedar Rapids, Iowa, and hold the following certifications.