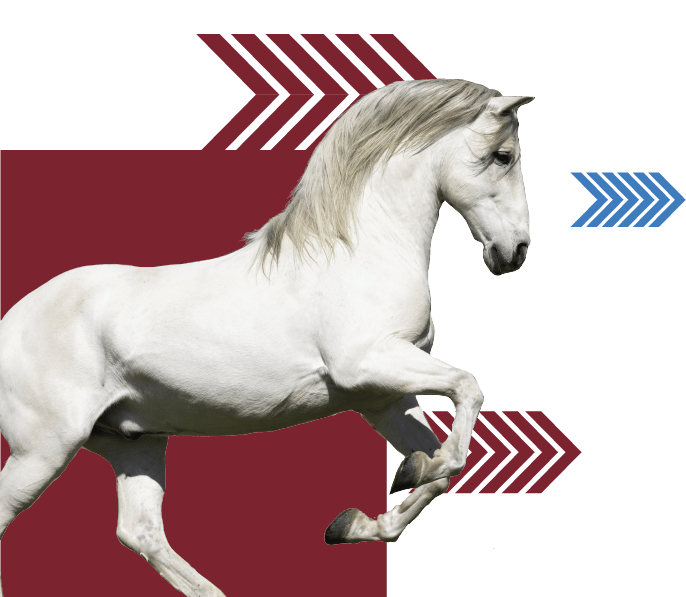 When your reputation is on the line, only the best will do
TruEquine postbiotics are backed by Diamond V, a brand with more than 80 years of experience testing and perfecting fermentation and postbiotic technologies. Our passion for equine research began in 1983, the year our first equine research was published for the technology behind TruEquine. Flash forward forty years, an industry-leading 17 equine-specific research studies support TruEquine's influence on gut health, joint health, exercise recovery and everyday stress management. 
Ready to take your gut health game to the next level?
TruEquine postbiotic is more than an ingredient, it's assurance​
When it comes to supporting horse health, TruEquine packs quite a punch. It is a single technology that has the power to support the health benefits horse owners highly value. ​
When added to feed or supplement formulas at the recommended daily rate, TruEquine works naturally with the biology of horses to:​
Help manage everyday stress
Support quick exercise recovery
Support healthy joints and promote cartilage development
Maintain optimal gut function and a healthy gut microbiome​
Boost your brand with a proven technology inside
Horse owners are curious to try what's new and next in equine nutrition, but the solution needs to work. TruEquine isn't just an ingredient, it's a branded technology that can add more value to your products. Count on TruEquine to differentiate your brand and offer peace of mind that your products are backed by sound science and can support the intended health and performance response when used properly.
Curious about how TruEquine can differentiate your brand?
Finished Product Applications
TruEquine can be included in any equine feed or supplement formula and can withstand any processing condition without efficacy challenges. ​
TruEquine for Equine Feeds​
Whether launching a new brand or reformulating an existing product, TruEquine can accelerate your innovation pipeline by adding multiple research-proven health and performance benefits packed into a single ingredient. ​
TruEquine for Equine Supplements
Backed by sound science and approved by the National Animal Supplement Council, TruEquine can deliver an instant boost of credibility to any equine supplement brand.
Are you ready to add multiple proven health benefits to your feed or supplements? ​